Model A Fire Truck - OUT OF STOCK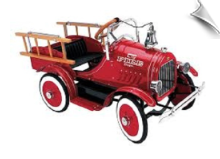 Click to enlarge image(s)
This is one hot collectible. The chrome parts are just amazing and include grille, working bell, adjustable windshield, radiator cap, gate rails and bumper.
This vintage pedal car features beautiful chrome headlight housings with decorative non-functional headlights.
The all metal, stamped steel construction is finished off with lead free powder coated paint.
Car features adjustable pedals, wood-look steering wheel, opening tailgate, padded seats, running boards and treaded tires.
Note: This car includes decorative headlights that are non-functional. The instruction sheet may refer to the headlights as functional, but they are not. Also, this car does NOT come with a license plate like the instructions show.
Click Add to Cart to order this product.
Email
info@pedalcarplanet.com
with any questions about this or any of our other products.