Deluxe Roller Racer - Blue
BUY NOW!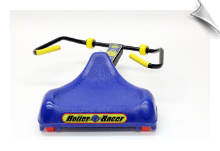 Click to enlarge image(s)
Deluxe Roller Racer - Blue (formerly Institutional Model / 5000i Sport Model)
The Roller Racer is a classic! This blue heavy-duty, 5000i institutional grade Roller Racer scooter used by schools and day care centers, zips along any hard, smooth surface by swinging the handlebars from side to side. Perfect for your home on hardwood or linoleum floors or outdoors on concrete or asphalt! Special features include rams-horn designed, steel handlebars with non marring buffer wheels and high quality bearings that ensure a smooth and easy ride. The low "no-tip" center of gravity makes it safe and fun. Made in the U.S.A., the Roller Racer comes completely assembled with a one year manufacturer's warranty.

Holds up to 200 lbs.

- LARGE INDOOR / OUTDOOR SKATEBOARD WHEELS
- INJECTION MOLDED POLYETHYLENE SEAT
- STURDY STEEL ACTION-STEERING MECHANISM
- POWDER-COATED BLACK HANDLEBARS
- MOLDED GRIPS, BUFFER WHEELS
- SHIPPING WEIGHT 13 POUNDS
- DIMENSIONS (in box): 28" X 18" X 8"

Recommended for kids ages 3-12

Homegrown history…Originally designed by a retired Boeing engineer in the 1970's. He used a tractor seat on his prototype model and made it for his grandson. The Roller Racer seat of today still resembles the tractor seat of yesterday. Many adults remember riding one as a child.

We're still trying to figure out, "How's It Go?"

Its unique method of propulsion has made it the subject of studies in Experimental Nonlinear Physics:

"The front wheels of the machine are connected to the handlebars by a lever, in such a way that they are located behind the axis of rotation of the steering column. This means that a torque applied to the handlebars will cause a lateral friction force by the wheels on the ground, a force parallel to the axle and perpendicular to the direction the wheels are rolling. If a component of this force points to the back of the car, the reaction force of the ground on the car (by Newton's "action/reaction" law) points partly forward and accelerates the car. This is the force that drives the car forward and it ultimately comes from the force you exert on the handlebars (magnified by the lever advantage, which is 2 or 3 for the Roller Racer.)".

Kids create their own ride at only 2 inches off the ground…The more Roller Racers you have, the more fun you create, as riders interact with each other, flying through obstacle courses, playing bumper cars, and having races. An Idea Sheet for games comes with every scooter!

NORMALLY SHIPS BY NEXT BUSINESS DAY.

FREE SHIPPING TO LOWER 48 STATES VIA UPS. PLEASE CONTACT US FOR SHIPPING RATES TO CANADA/INTERNATIONAL DESTINATIONS (VIA US POSTAL SERVICE).
Click Add to Cart to order this product.
Email
info@pedalcarplanet.com
with any questions about this or any of our other products.