Blue Dirt King Tricycle
BUY NOW!!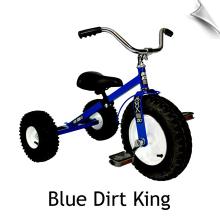 Click to enlarge image(s)
The Dirt King children's tricycle is built and rides like no other, herald by day care centers and parents as "the world's best tricycle!" The Dirt King is virtually indestructible. Hand welded and constructed of heavy duty 14 and 16 gauge steel. The Dirt King comes equipped with all terrain pneumonic tires mounted on heavy duty steel rims with 5/8 inch steel ball-bearings. The adjustable seat and tilting handle-bars allow the Dirt King to adapt with your growing youngster for years of thrills and healthful fun and exercise.

Unlike with typical solid tire trikes, rugged ground is no match for the Dirt King. Thanks to its air-filled flotation tires, making old and uneven sidewalks and gravel yards just another Sunday drive. So if you're tired of frail and little wimpy trikes, it's time to move on up to the smooth riding Dirt King. It's the trike your kids will pass-on to their grand kids!

- Length = 34"
- Width = 24
- Weight = 41 lbs Ship Weight
Seat to center axle:
- Closest = 10"
- Farthest: 18 "
- Tires: Knobby Pneumatic
- Heavy duty steel rims
- 5/8 " steel ball bearings
- Wide profile dished seat
- Large comfort pedals w/ recessed amber reflectors
- Typically for ages 3 to 6
Click Add to Cart to order this product.
Email
info@pedalcarplanet.com
with any questions about this or any of our other products.