MotoTec 100w Street Electric Skateboard
BUY NOW!!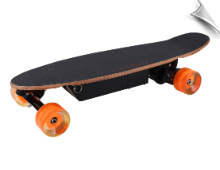 Click to enlarge image(s)
MotoTec skateboards combine the intensity of extreme sports with the classic thrills of skateboarding to deliver the best power boarding experience available! When it comes to street cruising, the MotoTec On Road 100w is the smallest and lightest version we offer for easy transport. If you're looking for a good time cruising in your neighborhood or the city, this is the board for you. It's also perfect for transportation on short distance commutes!
Controlled using a wireless, handheld remote control with a patented three-speed variable control system. This means you are always in control of how fast or slow you want to go. And when you want to stop, your skateboard is equipped with an integrated anti lock breaking system so you can stop safely. The MotoTec 100w On Road Electric Skateboard has a top speed of 10 mph with a riding time of 40 minutes.
Our cutting edge boards are made with high-quality, reliable materials. Our decks are made of real wood, specially designed trucks and bushings. All of our boards have an easy to read on-board LED battery life indicator. When you're on a MotoTec board, you know you are riding the latest in high-performance, quality, maneuverability, and power!
Specs:

Motor: 100 watt
Battery: 12v/9ah
Speed: 10mph
Adjustable Speed Settings: Low, Medium, High
Max rider weight: 130 lbs
12 ply maple deck
Interference-free wireless controller (Forward, Neutral, BRAKE)
Charging period: 3-5 Hours
Range: 10 miles (weight dependant)
LED Battery Meter
Specially Designed Trucks and Bushings
Belt Drive
Auto Power Shut Off
Box Size: 32x12x8 inches
Box Weight: 20 lbs
Skateboard Size: 30x11x6 inches
Warranty: 30 days parts replacement
Click Add to Cart to order this product.
Email
info@pedalcarplanet.com
with any questions about this or any of our other products.