UberScoot 70x 2-Speed Gas Scooter Green
BUY NOW!!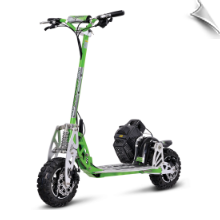 Click to enlarge image(s)
Cutting through the clutter of cheap scooters, comes the superior range of UberScoot Powerboards, formerly Evo Powerboards from Puzey Design. Through state-of-the-art design and manufacturing techniques, the new generation of Powerboards have taken a technological leap and are loaded with innovative features that make all other brands of scooters seem obsolete.
10 years of development have resulted in the most advanced gas scooter launched to date. This "X's" design has been developed and refined to be as tough as it is functional, making it one of the most versatile PTVs on the market. Whether used for daily commuting or extreme riding, the "X" will handle any terrain with the greatest of ease.
The "X" uses newly developed cross tread stability tires, the patented 2-speed gearbox and the auto locking fold up/fold down design, making it as easy to maintain as it is to ride for any novice or veteran adventurer.
Features:
Front "Cam-Link" Suspension - Unlike the competition, this is a true suspension system that offers a smooth ride, while offering excellent resistance when landing after jumps.

2-Speed Gear Box - The first two speed scooter in the world! This gives you power at lower speeds and higher top speeds. Patented design by Puzey Designs.

Quick Release Seat - NOT INCLUDED, AVALIABLE AS AN ACCESSORY

Billet Deck - CNC Cut Billet Aluminum Deck.

Reinforced Frame - Superior design, quality welding and quality steel.

Posi Lock Folding - Improved folding system, with superior feel and functionality.

One-Touch Chain Tensioning - Tighten the final drive chain in one simple and easy action without having to align the rear wheel.

CUSTOM

Alloy Rims - Forged aluminum.

Disc Brakes - Front and Rear with Aluminum Brake Levers.

Adjustable Handlebars - Height and Position adjustable MX Handlebars.

Tires - 11 inch

Oversized

Knobby Dirt Tires - Tubeless.
Specs:
Drive System: 2 Speed Gear Box (Thumb shifter)

Seat Included: Yes (removable)

Engine: 63.3cc 2-Stroke (EPA Approved)

Top Speed: 35mph (weight dependent)

Brakes: Front & Rear Disc

Tires/Front: 11 inch Pneumatic Knobby Tire

Tires/Rear: 11 inch Pneumatic Knobby Tire

Max load: 265 lbs

Max Range: 20 miles per tank

Carton Size: 46x17x19 inches 71lbs

Product Size: Standing 49x24x44in, Folded 49x24x20in

Net Weight: 53 lbs

Gross Weight 58 lbs

Warranty: 60 Day Parts Replacement



No California or Canada Sales



Ships out within 1 to 2 business days. Transit time is 1 to 5 business days. See Map for more accurate transit time.

Click Add to Cart to order this product.
Email
info@pedalcarplanet.com
with any questions about this or any of our other products.