John Deere Heavy Duty 12" Bicycle - LOW STOCK!
BUY NOW!!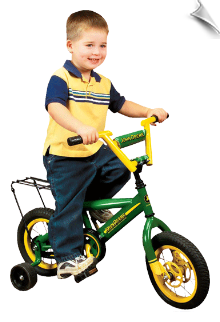 Click to enlarge image(s)
This John Deere 12" Bicycle has heavy-duty frame, carry rack and and adjustable training wheels.

Unit Dimensions: 36.0" x 20.0" x 27.0"
Carton Dimensions: 31.125" x 6.688" x 15.75"

John Deere products ship only to the U.S.

RC Learning Curve items normally ship out within 4 business days.

Click Add to Cart to order this product.
Email
info@pedalcarplanet.com
with any questions about this or any of our other products.