Dirt King Adult Dually WindRoamer Step-thru (Yellow)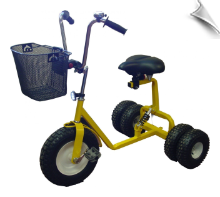 Click to enlarge image(s)
WindRoamer Adult Dually Step-Thru Tricycle
The WindRoamer is a whole new concept in tricycle design. There are other step through type trikes that are actually bicycles with sprockets and chain. No worries about a chain jumping off the sprocket or getting rusted up with the WindRoamer.
The oversized padded seat in conjunction with the spring loaded shock absorber give a smooth comfortable ride. The WindRoamer is a great way to exercise indoors or out. It comes standard with a constant or flashing headlight and tail light and detachable front basket. It's great for a ride to the store to pick up a few items or just cruise around to get a little fresh air.
Remember your first trike that had a ringer bell on the handlebars? The WindRoamer has one too! So get set up with the All New WindRoamer. You don't have to be a senior citizen to ride a WindRoamer, it's great fun for young and old alike!
Nothing can slow you down on this ride. The adult trike can be used by adults with physical disabilities and mobility challenges, security guards, racing crews, corporate events and sporting promotions.
With the Dirt King® WindRoamer Adult Dually Tricycle, you can cruise around the corporate grounds, race other trikes around a track or take your pet for a walk around the block with comfort and confidence that in the end, is just plain fun to ride.
The DK WindRoamer comes in Yellow and Pink. The Pink FTC WindRoamer came into existence to remind people to help Find The Cure but not just for Breast Cancer. All types of cancer are devastating to not only the individual, but to their family and friends.
Specifications for the Adult Trike
Ages: 10 to Adult

Length: 43"

Width: 31"

Height: 40" (top of handle bars)

Seat to center of front axle: 26" at farthest

All steel rims

All pneumatic tires

5/8" steel ball bearings on front/rear axles

Wide profile comfortable seat with suspension springs

Spring shock absorber in seat riser frame

Colors available: Yellow and Pink

Some assembly required on this tricycle. Instructions are included in packaging.
Click Add to Cart to order this product.
Email
info@pedalcarplanet.com
with any questions about this or any of our other products.