Emad 150w Electric Skateboard
BUY NOW!!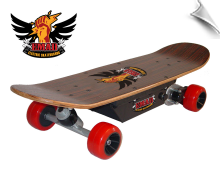 Click to enlarge image(s)
Emad 150w Electric Skateboard


EMAD skateboards combine the intensity of extreme sports with the classic thrills of skateboarding to deliver the best power boarding experience available! The EMAD Pavement Pounder Electric Skateboard is super light, and perfectly designed for the younger audience. It's great for all around carving, free style riding and everything in between. The Pavement Pounder is also assembled with our specialty designed trucks ready to ride out of the box.

Your EMAD skateboard is controlled using a wireless, handheld remote control with a patented three-speed variable control system. This means you are always in control of how fast or slow you want to go. And when you want to stop, your EMAD skateboard is equipped with an integrated anti lock breaking system so you can stop safely. The EMAD Pavement Pounder Electric Skateboard has a top speed of 8 mph with a riding time of 30-45 minutes. The battery pack takes 3-4 hours to fully charge.

We design and build boards because we ride just about every day! Our cutting edge boards are made with high-quality, reliable materials. Our decks are made of real wood, specially designed trucks and bushings. Our 600 and 800 watt models provide the highest onboard power available! All of our boards have an easy to read on-board LED battery life indicator. When you're on an EMAD skateboard, you know you are riding the latest in high-performance, quality, maneuverability, and power!

EMAD has an electric skateboard to satisfy every adrenaline junkies need for speed. Our rugged All Terrain design is perfect for getting your thrills off the beaten path and cruising down the beach. If hitting up the local skate scene is more your speed, there are several street designs available. The EMAD skateboard offers an experience like no other.




Specs:

12 ply maple deck
Interference-free wireless controller (Forward, Neutral, BRAKE)
150 watt motor

Top speed: 8 mph
Battery capacity: 24V 5AH
Charging period: 3-6H
Range: 6.21 miles
LED Battery Meter
Adjustable Power Settings high, med, and low speed
Specially Designed Trucks and Bushings
Half Inch Thick Rubber Vibration Dampening
Product Weight: 26 lbs
Maximum load: 143 pounds
Auto Power Shut Off
Product Dimensions: 30x8x6 in



Ships out within 1 to 2 business days. Transit time is 1 to 5 business days. See Map for more accurate transit time.

Click Add to Cart to order this product.
Email
info@pedalcarplanet.com
with any questions about this or any of our other products.