Coca-Cola Classic Cooler
BUY NOW!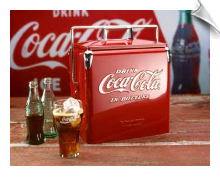 Click to enlarge image(s)
Coca-Cola is one of the famous names associated with these vintage cooler, or ice-chest reproductions.

Our coolers are exact replicas of the 1940's through 1950's all steel "six pack" Temprite and Action picnic coolers. This is the Junior model, the most popular of the collectible coolers.

The unit features chrome corners on the top edge, a chrome handle and a chrome-locking bar. There is a built-in bottle opener on the side. The original coolers were embossed with only three different names, Coca-Cola, Snakmaster and City Club Beer. The larger coolers of the same vintage had many different names.

We emboss ours with a variety of logos. Most model coolers have limited production runs. If it says limited edition, when they're gone, that's really the end of them.

- Overall Dimensions: 11.5 inches in length, 9 inches in width, and 14 inches high
- Materials: Steel, aluminum, and insulation
- Finish: Scratch resistant, rust resistant, non-toxic, lead free powder coating.
- Insulation: Refrigeration type
- Assembly: no assembly required
Click Add to Cart to order this product.
Email
info@pedalcarplanet.com
with any questions about this or any of our other products.