1930's Coca-Cola Machine
BUY NOW!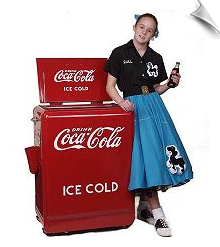 Click to enlarge image(s)
This is an exact replica of the famous Westinghouse Junior Coke Machine that was so popular in the "Mom And Pop" stores of the 1930's and 40's. This vintage self-serve refrigerated floor chest will be quite a conversation piece at your home or office!

The machine was used where a clerk was present to collect the money, which makes it ideal for home use. Note: there is no bottle mechanism or coin mechanism to get in the way of any use (ie. cans, potato salad, etc.). It enjoys an all-metal construction with embossing on all sides and under the lid, as the original. It is also the same size as the original. Just like the original, there are wheels for easy moving. Don't miss the bottle opener detail on the oustide, either.

**Available for US customers only; Licensed product**

Vendo Corporation later purchased this machine from Westinghouse and fitted it with coin-operated top so bottle Cokes could be vended from it. This original machine was made entirely for Coca-Cola, no other brands were used. One of the attractions of this machine is its beautiful and plentiful embossing. It has the Coca-Cola logo on all four sides as well as under the lid so it could be read when the top was opened. Additionally, it has "ICE COLD" embossed on the front and back. Many had "five cents" painted between the Coca-Cola and ICE COLD embossing on the front and rear.

As with all our products, we kept this machine as original as possible, for example, it's made in metal, the rubber seals under the lid are screwed, the cap catcher and bottle opener are exactly like the original and we even included wheels on the bottom like the original for easy movement. Its brilliant red color and contrasting white embossing make it a beautiful addition to the home, recreation room, patio or office. Unlike Vendo, we kept it the way Westinghouse designed it, you open the lid and you have a deep box to place cans, bottles, or anything else you want to keep cool. This machine will hold 80 cans of soda. If you have the refrigeration model you even have more room for something else on top.

- Capacity: 80 cans of soda
- Tank: Aluminum
- Body: Pressed steel
- Finish: Chip resistant, rust resistant, non-toxic powder coating
- Insulation: Foam
- Size: 35.25 inches high, 25.25 inches wide and 17.75 inches deep
- Box Size: 39.50 inches high, 30.00 inches wide and 22.00 inches deep
- Weight: Ice Model - 80 lbs, Refrigeration Model - 100 lbs

SHIPS SAME OR NEXT BUSINESS DAY!
Click Add to Cart to order this product.
Email
info@pedalcarplanet.com
with any questions about this or any of our other products.